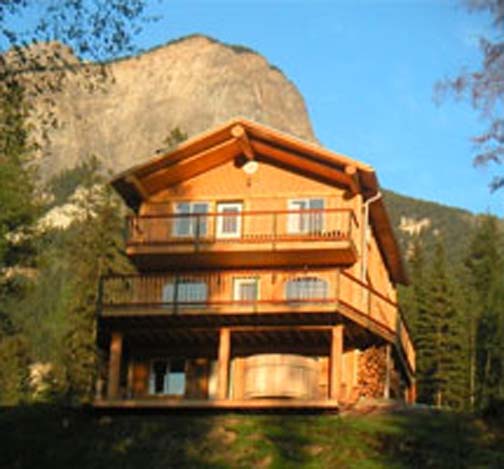 The cover photo is the Quantum Leaps Lodge near Golden, BC. An enchanting place to spend some time. Brian met his new love Annette and together they now offer workshops similar to what Richard and I are doing. As we let go of the old model of doing business and learn to trust our instincts, we can meet the challenge of creating a living in remote places like Golden or Johnson's Landing, BC. With the new technology of the internet and computers, it is getting easier to create a living and let people know of your services from afar.
Issues is now published high in the mountains and emailed to Webco, my printer in Penticton. It takes me seven hours of driving before I see the printed copies and start the distribution process, which usually takes a week. During the summer the driving conditions are much easier plus I get to bring back lots of fruit to process for winter storage. Life does move a little slower living in the country and I get to be closer to nature. Watching the rabbits, squirrels and deer come for an occasional feed is my entertainment.
This spring we completed a few more things on our to-do list including building a tree house that we had started last summer, complete with screened windows, tarped roof and a steel staircase. The trapezoid shape was created by four cedar trees that grew near to each other. The trees are still living and sway in the breeze. It is eight feet off the ground and come October, we will unscrew the tarped walls from the deck and put it away. We were delighted when a young couple came and stayed in it for their honeymoon.
Wiz Bryant and his film crew video taped the Wise Guys Weekend that just happened. Drumming was led by Paul Langois of Vernon. Around eleven pm I meandered down to the tipi once the workshop was finished and most of the men had left. The fire still flickered as the last logs burned and a few men continued the beat late into the night. Wiz says the footage will be made into a half-hour documentary airing on local networks around Canada. He has also sold the rights to a television station in the United States. We had thirty men attend so lots for me to do, keeping them fed.
Most of the retreat workshops have had enough attendance to allow them to happen. With intimate groups of 3-6 people everyone gets more personal time, which creates a deep connection to each other and the place. Richard and three ladies help build a 42-foot labyrinth with layers of sawdust, landscaping fabric and river rocks while the Herbal Workshop was in progress. On Sunday we all joined together for a sacred ceremony, honouring the four directions and dedicating the labyrinth to the spirits of the land.
Now, the heat of summer is upon us, and I am grateful for the variable weather. After last year's record dryness and forest fires, the coolness and rain is appreciated. As is all the help that has been sent our way to get each task done. I expect my angels to keep up their good work as we turn this endeavour into a collective of like-minded individuals working together to create something bigger than what we could each do by ourselves. Life is indeed an interesting journey.