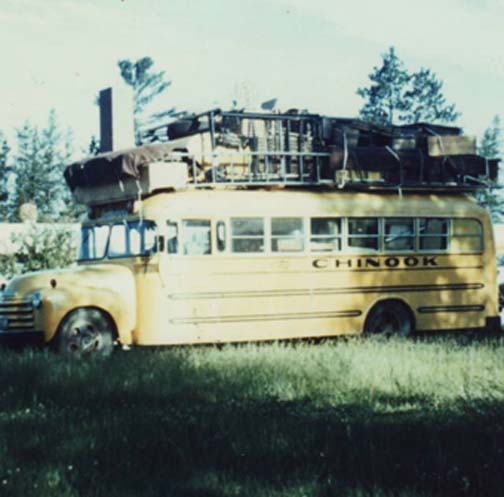 I passed grade one in 1959 and my parents decided this was the year for the big move north. Destination … the end of the road … somewhere in northern BC where the government had announced incentives for homesteaders … land at $2.00 per acre. My uncles came over and helped Dad load our second-hand school bus, the inside of which had been converted to a home, complete with bunkbeds and a kitchen. On top we packed everything that was important, including my mom's piano and her trunk containing mementoes, many cameras and dark room equipment. The bus was re-painted yellow and named Chinook, in honor of Mom's beloved husky, who had just died. The dog had been just a pup when my Mom was working in Alaska and met my Dad. Chinook came to Michigan, my Dad's home, for the wedding, and they were supposed to return soon after to start a Guiding and Hunting Lodge in Alaska. Mom and Dad were both excellent marksmen, with a bow and arrow or a gun. They both loved the freedom the north offered, and the genuine hospitality of the people there. But after the wedding, Dad found it difficult to leave his family, Mom was pregnant and it was easier to stay put. It was seven children later, that Mom finally got her way… and we headed north in 1959.
My mom was born in northern Saskatchewan, but lived in the NWT as a child for a few summers, for her Grandma & Grandpa owned a Trading Post and Hotel in Aklavik, NWT. My Great Grandma, Mary Kost, was the only white woman for many years living in the High Arctic. In 1921 she was hired by the government as a nurse and school teacher, in 1931 she married Great Grandad, and together they built the Kost Hotel, the largest two-story wood building in the north. They had it double-walled and insulated with sawdust, for the long days of winter darkness get mighty chilly.
Great Grandma Kost was the only woman, or man for that fact, to brave the mighty and tricky MacKenzie River… TWICE in one season: in 1938 she skippered her own scow from Fort McMurray, in Alberta down the Athabaska, Slave and MacKenzie Rivers to bring supplies for her trading post and hotel to Akalvik in the North West Territories.
Late in the summer of 59, on our long journey north and westward, my family stopped in at Grimshaw, Alberta, where my (Great) Grandad, Vincent Kost, was now living. (Great) Grandma had died in 1943 and he couldn't look after the hotel by himself, so he had donated everything to the local missionaries and moved back to Alberta with his brothers. He was a wonderful person, and as I have said many times in this column, I don't think my parents would have survived the first year in Northern B.C. if it hadn't been for the help of Grandad and Chuck, his nephew.
I am the last female in this long lineage of visionary females who helped to settle this country, for I gave birth to three sons and no daughters, twenty years ago in Terrace. Now that I have experienced being a Mom and realize the time and patience it takes, I would like to publicly express my gratitude to my mother, Tess Tessier, for her inspiration … and her collection of family photos. Can you imagine cooking for 10 to 11 people all day, bringing your supplies in from town, only once a month, keeping up with the laundry and preserving (all with no electricity or time-saving devices) and still having enough energy at night to turn your kitchen into a darkroom? My Mom did just that. With a battery-operated light, she processed the film at night and got up early enough the next morning to clear the kitchen table of the drying photos so that everyone could sit down to eat breakfast.
I have been invited to an All Women Celebration of Remarkable Women in Tonasket, Washington, where I will be performing a short skit about my Great Grandma and her adventures as a Skipper on the MacKenzie River. None of this would be possible if my mother hadn't realized how important it was to save the old photos and newspaper clippings of her life and her day-to-day travels.
To finish off my lineage … Grandma Tessier, my mother's mother. She was the first woman jockey in Canada, a tiny woman, 86 pounds of determination, riding the horses of her veterinarian husband. One year she won a number of races, the jockeys got together and they banned women from racing professionally. It wasn't till the early 40's that women were allowed to race once again. During the Second World War Grandma Tessier kept politically active, she was a pacifist and an agnostic. She spent long hours and many years volunteering and working for politicians. She was very outspoken and peace was one of her favorite topics. She had a photographic memory and devoured books instead of food, for she had tasted rat poison as child and it had burnt more than half of her stomach. As a result, she travelled great distances, looking for ways to extend her life. She ate only organic foods, most of which she grew herself. She came to Rosswood shortly after we settled there and stayed almost a year, helping out with the chores and giving moral support to my Mom, plus she and Grandad loved to play cribbage.
I can still remember her arrival. She came in a truck pulling a trailer loaded with shoes. Someone had gone out of business and was selling them cheap, and Grandma figured that with 10 pairs of feet to sole, we would all eventually fit into them, and we did. She also brought with her fresh organic dates and a large cache of nutritional candy bars. They were so tasty that brother Phillip got into trouble for finishing them off.
I asked my mom recently how I was delivered, for Rebirthing Techniques are making the headlines in Wholistic Circles. She told me she was put under anesthesia as Doctors didn't consider women capable of helping. If the baby wasn't strong enough to make it out on its own, it was pulled out with forceps. When I had my children, I was already on the Wholistic Path and wanted my babies delivered naturally. That amazed my doctors and they were very uncomfortable with my requests, but I persisted. Today, what I had requested is considered normal and I hear that the government is now considering legalizing midwifery. We have come a long way but I often wonder why we needed to fight in the first place.
I guess that's why I express my opinion so openly and put all of my time into networking and communicating with people, showing them that their thoughts and decisions do make a difference. As Margaret Mead said, "Never doubt that a small group of thoughtful, committed citizens can change the world. Indeed, it is the only thing that ever has."