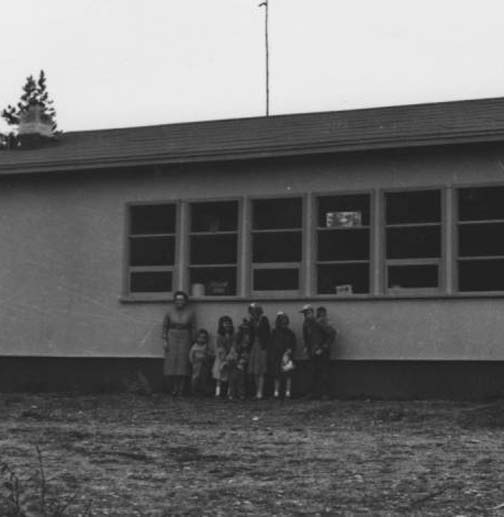 This month's photo on the front cover is the one-room school house I went to as a child, when we moved to Beaver Valley the summer before I started grade two. The insert shows myself, three brothers, the girls that lived on the other side of town and Mrs. Waterman, our teacher for several years. This is a rare photograph for my Mom, as it does not show an activity. The photo does reveal the bare essentials of country living … two outdoor biffies and an oil tank for heat. The part of the building that has no windows facing the street was sleeping quarters for the teacher, and that room had a wood heater.
The community of Rosswood, as I knew it from 1959 to 1964, consisted of not many people. There was a hillbilly family, with four boys which had settled there years before and resented us new American settlers. At the other end of town lived the two families that belonged to the four girls in the picture. Related to them was a young couple building a log home in the bend of the river bed near us. There was old man Tomachuck, who kept the road graded and locked his gate and old man Mills, a hermit who would bring ice cream (from town ) whenever he came to visit. There were a few more people who drifted through occasionally and a variety of school teachers who came to teach, but it seemed us four families were the only settlers who had taken advantage of the government incentive of land at $2 per acre. There were other families that settled another 40 miles north of us into the Nass Valley.
When my family arrived, we were quickly checked out by the settlers already there. They were grateful to know that our family had four children of school age, because that meant Rosswood now had enough children to meet the minimum requirement of ten and the government had to supply a school and school teacher. The school was quickly built in a central location much to the distress of the hillbilly boys who lived nearby.
I remember grade four the best. We had the biggest class with four kids the same age: Dave, Hazel, Rick and myself. I discovered at a young age that I was good at being able to learn a subject quickly and teach it back to others who hadn't quite understood it. The basic system used by most of our teachers was that everybody helped everybody. Every hour or so we rotated roles. Sometimes we taught the younger ones and sometimes the older ones helped us, and the teacher just helped to keep things moving.
About five years later the requirements for rural schools changed, and the government decided it was best to bus us the one-hour ride into town. That made our days very long and the bumpy ride gave me headaches and stomach aches. So I was delighted when Mom moved us into town on that cold, snowy day in January, 1963. I loved being in grade six with twenty-five other kids that were the same age and with a teacher that taught only us.
I quickly made friends with two girls. Shirley, who lived near the school, was very shy and had six brothers just like me. Cindy lived just down the street from our house and was one year younger. It was great having girl friends to walk to school with instead of brothers. The ten block walk increased to two miles when I started high school, but I enjoyed walking for I knew nothing else, and there was much to talk about. When it got real cold and windy or was raining hard, one of our Moms would usually drive us.
After school, I never socialized much with the other girls, as there never seemed much time or opportunity to get to know them. In the evenings I babysat or had homework to do, plus I was learning to follow a pattern so that I could make my own clothes. There was always cooking or cleaning to be done and an endless supply of wood to be brought in if the house were to stay warm.
As a young married woman of seventeen, I would go to bowling banquets or hockey parties with my husband Rae. We usually sat near the wall so that I could hide my bottle of orange juice, for I didn't like pop. One shot of vodka would last me all night as I kept diluting my drink. I tried my best to enjoy what most people considered 'fun,' but I didn't need booze to get me up dancing.
Within five years we had three children. Rae worked all day driving truck and needed to be out socializing in the evenings, so I encouraged it, for I could get twice as much work done when he wasn't home. He didn't like the babies crying or changing their diapers. For awhile it seemed we only saw each other at breakfast and dinner, and that was a busy time for me, for Rae refused to cook or help wash the pot and pans.
Owning his own business meant he worked six days a week and on Sundays, he changed oil in the truck or did whatever most needed fixing. I kept busy with kids, house and garden, plus I made time to sew clothes for the kids or myself and read Prevention or Organic Gardening magazines.
As the kids got older I started teaching Tuesday and Thursday night adult swim lessons. The following fall I heard an ad on the radio, stating the Adult Continuing Education Program needed a sewing instructor. I think I was the only one that phoned, so they hired me the next day. Both jobs opened up great opportunities for me to meet people and taught me my basic skills of teaching and communication. The second year I taught sewing , I remembered all the mistakes I had made the first year and tried not to repeat them. The class ran much smoother and I remember feeling sorry for the people who had taken my first class, for I really didn't know what I was doing. I loved sewing and could follow a pattern and I knew how I had hated the slowness of high school sewing classes, so I taught them all the shortcuts I knew. The students loved it, for by the end of the program they had a shirt or a pair of pants that they could wear. I discovered how eager most adults were to learn and that made my classes fun and easy. Also, I earned enough money to buy myself a brand new Bernina sewing machine.
After about eight years of marriage I got very dissatisfied. Rae was very good at spending money before it ever came in. I remember him coming home and telling me about this log that had almost killed him. As I went for my walk that evening, I can remember thinking, "The insurance money would have paid off all the bills and made my life so much easier." Rae sensed my sullenness and we talked. He offered to leave but that was not what I wanted: the boys came first, and I wanted them to have a Dad. He was a good man and he spent a lot of time with the boys now that they were no longer babies. Besides I was trying to show my Mom that men and women could get along without fighting, and I was making a lot of relatives eat their words … 'that I was too young, it would never last,' etc.
So what was I to do? This was something you certainly didn't discuss with anyone except a counselor and that cost money. So I went to the library and got a book on how to make a marriage successful. I flipped through the pages till I found a list of 'Ten ways to keep your mate happy.' Some of the suggestions seemed beyond realism … like spending one week-end a month at a motel without the distractions of the kids. It sounded great but who could afford the time or money? I re-read the list a second time and decided to choose #9, which said: "Tell your spouse what you like about him/her every day for a month." That was about the easiest and cheapest thing on the list, so I vowed to try it.
The rest of the afternoon as I ran errands and bought the groceries, I kept thinking of what I would say. I really did want my marriage to work, but all I could remember was all the idiosyncrasies that bugged me and all the things he didn't do right. I also knew I had to be honest if it was to work. So that night as I scrubbed his back in the shower, I mumbled, "You're very special." He did a double take and said, "Huh, what do you mean by special?" I said, "I don't know … I can't put a name to it but I know you are very special." Every night I praised him for his specialness until one day I realized that it really was true. Rae didn't have a clue what I wanted from him but he so wanted to please me that he became the undefined specialness. Today I can laugh about it, but it took me many years to realize that it was I that had changed. I had become much happier, realizing that I had a treasure in the man I had married. I had decided to appreciate the differences in our personalities and gave up wanting him to do things my way! I also started studying astrology and that helped me to understand the various energies/gifts each person is given at birth.
In 1981 we left the logging town of Terrace and I was grateful, for it felt like a new beginning. I demanded a little more time for myself . Rae was out of work several times over the next few years and got to enjoy staying home, as I now had a full-time job at the Summerland Pool. My job was more involved than just life-guarding or teaching swimming lessons. I was very versatile, eager to learn and I liked organizing. Ellen, my boss, needed help promoting the Giant's Head Run, plus other special events so that worked out well. However, I never enjoyed walking the deck or performing early morning drills to keep us on our toes in case of an emergency. So in 1987 when they hired Peter, the new head-lifeguard who was going to whip my skills into shape, I quit, for I didn't like him. I was also tired of working week-ends and had been promised some shift changes; when they didn't happen, I gave my notice..as of yesterday.
We had moved to Penticton by then and we were foster parenting a friend of my son's so we just asked for a couple more kids and that helped to make up the difference in the money I had been earning to pay for never-ending bills. I enjoyed my time at home and I spent my UIC money on Graphology books and classes, for I was not going back to Aquatics. After flunking my final exam in Graphology and being told I could not rewrite for six months, I decided that organizing the Spring Festival of Awareness was the perfect timing interlude … when it was over I would rewrite the exam and get on with the life I had planned.
Reviving the festival appealed to me for another reason: I was feeling guilty at having such a good time not working and I reasoned that this was my way to appease the Gods for my time-off. Well, folks … it changed my life, and today I am doing something that has always been near to my heart… promoting wellness.
Rae watched me get busier and busier as the festival drew near. He helped me when he could, but he didn't want to get involved. I was having a blast, for the festival had lots of details that needed figuring out and I was given the authority to do whatever I thought best. To do a better job of promoting the festival I started the Holistic Networker TV show and ISSUES and was still promoting the Metaphysical Club. After two years of waiting for me to finish with festival stuff, Rae decided it was time to talk again. He was lonely, the boys were leaving home and I was never there for him. I asked him what would make him happy. He told me I was getting very good at promoting and he wanted to see me make it but it wasn't making him happy. He wanted the ol' me back … and I couldn't give it to him, so we parted company. He has always encouraged me to do whatever made me happy and his slowing-me-down tactics just weren't working any more. Rae is indeed an undefinable special treasure … but I'm glad that someone else is now taking care of his needs for I am loving my freedom.
I have decided that starting next year …. Sept. 1994, ISSUES will be published 10 times a year. I will hire a secretary/computer person and learn to be a bit more organized so that I can do less and have more happen. I would also like to see a Holistic Center in Penticton, if there is someone out there with the time and money to be a partner, please call me.
P.S. I enjoyed my month off this summer: I went to the Kootenays for ten days, did an Authentic Movement workshop with Diane Patten, and then took my Mom on a trip to the Oregon coast.