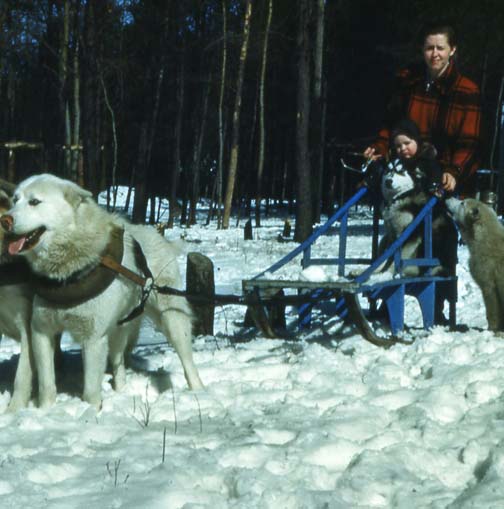 This cover photo and quote made headlines in the Alpena News back in 1951. Mom and Dad both loved the North and tried to recreate it when they moved to Michigan. With lots of snow and the annual Thunder Bay Ice Carnival, Mom decided her dog Chinook should be part of the festivities. Cheena is Chinook's daughter and Mom is teaching them to pull her sled. Some of the newspaper clippings with pictures of women waving from the sleigh say .. "Queen Arlene and members of her court are set for some genuine Alaskan dog-sledding." "Visitors to our annual Ice Carnival will get to see these dogs pulling a load of beauties through the snow. Not one in a hundred probably will know this breed. They are Mackenzie Huskies from Northwestern Canada."
While Mom practiced her dog-guiding skills, Dad taught us how to make igloos. We needed special snow to make an igloo, and one crispy morning we got it in the form of heavy dew that froze. This helps the crust stay together so that it can be cut with a shovel. Each piece was cut to size as it spiralled upward and inward. I will put that picture on next month's front cover.
Mom still has a few dogs. She can't live without them. She told me that she has never lived without a dog. Even as a child and when she was in the convent, she had a dog waiting for her when she got home for the holidays. When she comes to the Okanagan this Christmas, she says she will only bring two of them… we'll see. It will be good to have her here for a few months or more. She would like to find a secluded place to live somewhere within an hour of Penticton. If you have a place with some space for her and her furry companions, please give me a call at 1-888-756-9929.
My focus for the past month has been to slow down just a touch. I cleaned out some old files, winterized the windows and painted a few of the practitioner's rooms. We have two women joining us… a newly-licensed naturopath, Megan Mackenzie and a registered massage therapist, clinical hypnotist and counsellor, Rosemarie Woloch. It is great to have some more people join our community of like-minded souls. I love what has been created here on Ellis St. People from all over drop in to say "Hi," and check out our Juice Bar, Gift Shop or Yoga Studio. Many people come because they are looking for some guidance in understanding their health, or to feel the spiritual connection that the people, books and videos offer.
Recently I had a real estate man drop by… he was representing someone who wanted to buy my land and build a restaurant. I contemplated selling, for I am always open to the possibility that the universe has something else for me to do. It didn't happen but it gave me lots to think about, for I have always wanted to start an Intentional Community… a Retreat Centre where like-minded souls could live and work together. The offer prompted me to think once again about this possibility. If anyone has similar ideas, I would love to hear from you.
Another project I have started is producing T-shirts. You saw them on the back cover of last month's Issues and again this month on the opposite page. It reminded me of the quote… Be careful what you ask for … I really liked Nywyn and Kestrel's designs and was saddened when they stopped making them three years ago. Recently Kestrel approached me wishing to sell his designs. I couldn't resist. It fits into everything else I do and will teach me a few more things about being in business. I can take them with me when I travel so if anyone wants to see them in other towns, please let me know.
I don't celebrate Christmas in the traditional way any more, but I remember the excitement of getting something new. Owning a gift store is like having Christmas everyday. When a parcel arrives or someone drops in on their way back from India with new product, rocks, oils or T-shirts, I can feel the excitement. I get to open the boxes and enjoy the scents or beauty until someone takes the item home. I enjoy the moment and give thanks for my many blessings as I continue on to the next task of pricing, cleaning and even dealing with shoplifters. Each day teaches me much, and in gratitude I blow kisses to the water and the sky for my abundance.
I want to say "Thank You" to all the Safeway stores who have allowed me to use their front foyer space to distribute my magazines for the past ten years. National Distributors Alliance have now bought the rights to put their racks in the foyers. NDA will allow my magazines in their rack for a monthly fee. That I refuse to do, so give me a call if you want to know a place close by to a Safeway store where you can pick it up.
For those of you who noticed that the front cover is not in full color, I am still learning what it takes to coordinate a Mac printer with an IBM computer. We have several experts doing their best to figure out the glitches, and we'll see what happens.
And last but not least… "Thank You," to everyone who took the time to respond to Eileen's Boeur's comments about needing a reprieve from my front cover photos and personal thoughts. It was interesting to read other people's comments both pro and con. Eleven years ago when I started writing Musings, I wrote about the changes I felt were needed in our "Health Care" system, for that is something I would like to see improved. Nobody ever made mention that they read it. People told me they generally find editorial's boring. When I started doing process work I decided I would share my feelings and my healing process. I got lots of good feedback, so I continued. It is a good exercise for me to make the time every month to write—putting into perspective my idea of who I am in relation to how I am feeling. As I stated several months ago when I published my before and after photos, I feel like I have made it through the worst of the energy blockages and now it's time to slow down and let my body adjust. I will see what the future brings and keep you updated as to my progress. Each month as I reflect on where I am, those of you who are interested are welcome to peek in and share part of my life. Each day I try to be more in touch with my feelings, for the body never lies. It is the mind that likes to play games. Reading Chinese Medicine and Psychology is helping me to understand how energy moves through the system. Meditation, yoga and good food build my inner strength so that I may grow into my unique self and feel blessed with inner peace.
Namaste