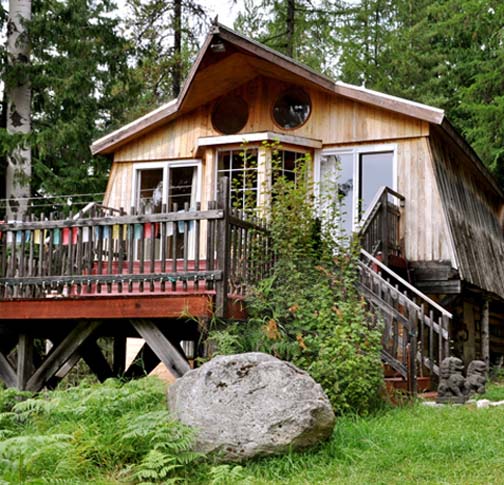 The front cover is a photo of the Johnson's Landing Retreat Centre near Argenta, two hours north of Nelson. Surrounded by large trees and overlooking Kootenay Lake, it has a serene and peaceful atmosphere. I know because I spent a lot of time there last summer and will be arranging my life to spend more time there in the future. I am hoping to start the process this June and know it will take time.
To build an office there, I will need to sell my holisitic building In Penticton. It is a 3,000 sq. foot commercial building that backs onto Ellis Creek, near the downtown area of Penticton. It is semi-divided into three sections: 1) The Rainbow Connection, a metaphysical/holistic book and gift store with an attached workshop or yoga studio; 2) The Juicy Carrot, an organic juice bar and eatery; and 3) the Issues office plus my personal space. I think it would be ideal if two to four people who wanted to work cooperatively bought it. Gerry would like to move on, so The Juicy Carrot is also for sale. I figure it will take a year or two to move my office and Issues Magazine to the Kootenays. I expect I will be back every few weeks to keep an eye on things until a sale is finalized and the move actually starts to happen.
Last spring when I told my guides I was ready to have a man in my life, I suggested it would be great if he were the type that would enjoy helping me develop what I had started here in Penticton. I even spent some time surfing the web, but after a few months, I lost interest. All the men lived so far away, and no one bothered to email me back. Late one night as I was finalizing the Spring Festival edition of Issues, I had one small space left to fill in the Natural Yellow Pages section. It was beside the Soul Mates column. I thought to myself..should or I shouldn't I? I had started this column a year earlier on the request of several people who wanted to get in touch with the type of people who would pick up and read this type of magazine. Each month we would get a few ads and a few replies. This time no one had placed an ad, so the space was empty. I started typing, and out came a simple ad of less than thirty words…Interested in meeting a spiritual man who is holistically minded. Hopefully he likes to cook, live simply, enjoys meditating and yoga. Just after that, I got a phone call from a man I knew slightly because I had been to his retreat centre. He was asking for a favour…he needed a place where his new brochures could be delivered until he could get into town and pick them up. I like socializing with my advertisers and people who are involved in the New Age movement, so we went out for dinner and caught up on what was happening in our lives. I never mentioned the fact I was looking around, and neither did he. Later that night, he asked me if I had an Issues around. I thought to myself, "What a dumb question," and found one for him. He flipped through the pages and pointed to my ad and asked…"Is this you?" I laughed, thinking fast. My heart said… be truthful. So I said "Yes," He said, "Then I would like a date."
It has been almost a year since I put the ad in my magazine and with Valentine's Day near or just past, I thought you might enjoy the story of how Richard and I met. We feel we are a good match for each other and have lots in common. I feel like I am being guided in a slightly different direction than where I thought I was going. I am looking forward to the change, but not the change-over. It will make my life even more full than it is and creates uncertainty for the people around me, but I trust that the universe has a plan and I need to be patient as it unfolds.
Another way to meet people of like mind is to attend the Spring Festival of Awareness that happens every April. See inside the back cover for details. If you want some romance in your life, follow your instincts, get clear with your intentions, tell a few friends, and be patient. It may take time before the other soul is ready.