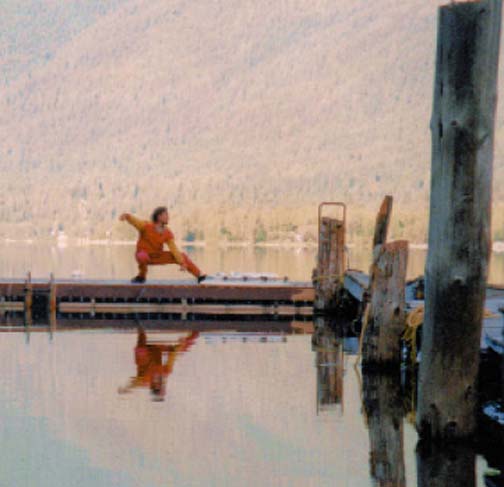 Many thanks to Eric Eastman for submitting the front cover photo of his friend John Zacks dancing Tai Chi in the early morning light, reminding us that the summer heat will soon be here and inviting us to join the 28th annual Kootenay Lake Tai Chi Summer Retreat which hosts people for a week of community, empowerment, healing and self-discovery. See ad in the Natural Yellow Pages under Retreats.
The warm weather has been ever so inviting and it is so nice to get outside and enjoy the sun and the trees. The garden beckons to me, with the raspberries asking for a quick tie-back before they bush out and the strawberries asking that we remove the extra layer of straw so they can start the cycle once again. Then there is the early planting of peas, potatoes and lettuce that just love the cooler weather, the transplanting of tomatoes that one of the neighbours gifted us with and the picking of chives, parsley and mint that all need to be weeded as well. I love getting my hands into the earth, but if I wait until I get the ads done it may be too late, so I make the time. Deep inside of me is a knowingness that everything gets done, and that thought graces me with the ability to let go and enjoy the extra activities.
The beautiful flowers that were purchased to make the Great Hall at Naramata look attractive for the Spring Festival of Awareness now grace the veranda of the Johnson's Landing Retreat Centre. Richard helped mix the potting soil and dug through his large selection of pots making the task quite effortless and the sun shone ever so warmly that week. I am sure we get lots of assistance from the angels as we prepare this sacred place for another season. Many helpers have begun arriving to help us get the task done.
The phones have been ringing as more dedicated souls sign up for workshops or the Centre Life program, where participants work half days in the garden or kitchen and get reduced fees for accommodation. Getting this column typed has taken the back seat to talking with people. Some days I am amazed that it happens at all, but it seems to be an integral aspect of the magazine, so it gets done like everything else.
I am still waiting for more Wise Guys to sign up for our first annual event, so if you are thinking of coming, please phone and let us know. We have had lots of interest, so I am wondering why it is so difficult to get men to actually register. Any suggestions out there? I have been told by quite a few men that they enjoy reading Issues. There was an overall increase in their numbers at the Spring Festival and it did my heart good to see them attending various workshops. Instructors gave me feedback like… "Wow, what a difference in the energy in my workshop," Commenting favourably on more men being present and offering their support. A small group of teens also showed up and here is a letter from one of them:
Dear Angèle…My experience at the Spring Festival '04 was awesome! I found out about the festival through my mom, who has been attending for about five years. Being a teenager, I didn't know what to expect and I didn't think that people my age went to these events. I also didn't expect to be having so much fun in one weekend! I went along this year to just set up around the site and help in the store in the mornings. I ended up going to workshops, joining activities, and having the best time ever! I met a ton of great people, made awesome new friends, ate excellent food, and I'm looking forward to next year! I had such a great time that I told (literally) everybody I know about it!….Claire Drummond.
The Wise Women's Weekend is being announced in the centerfold and I am ever so grateful that Samarpan, Laurel and Urmi have taken over the awesome task of organizing this event. I wish them success.